THIS YEARS 2018 CHARITY BOWLS MATCH.
Unfortunately the two dates we could all get down the bowls club it poured with rain, so bowls got cancelled & now the season is over.
A darts tournament was held in the CIU club to raise money.
It does mean the 2017 team "Rackys Rebels" are champions for another year.
SUNDAY 6TH AUGUST 2017 10am
STEVENAGE OLD TOWN BOWLS CLUB

Sixty players gathered at The Old Town Bowls Club for a friendly game of bowls, and with the good weather even more turned up to watch. Ten teams took part in some very competitive matches, with a range of players from ex-county players to first timers. The bar was open and Gordon was kept busy with drinkers, Paul served up hot sausages or bacon in a roll for the hungry / hungover . Thanks to The Old Town Bowls Club, who were allowing us the use of the clubhouse.
The winning team of Racky, Tracey, Karen, Ray, & Loz, won by one point over our nearest rivals. Every one had a great day of bowling & headed on to The Old Town Social Club for more beers & banter in the sun. Thank you to every one who played or just donated.
Well done to Pat Spraggs & Robbie Winters for planning & organizing the day, at the last reckoning £750 was raised for charity.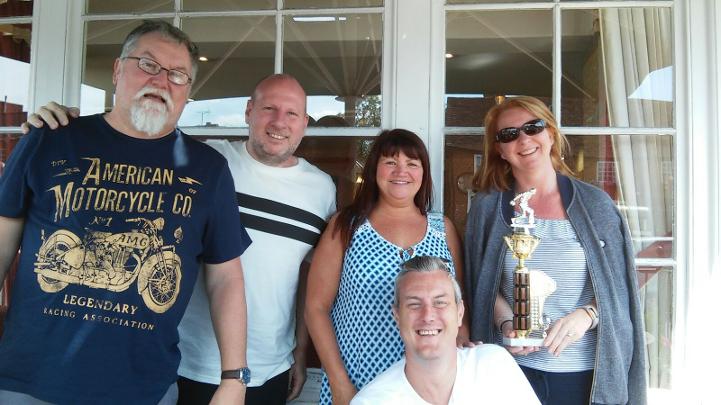 WINNERS: (LtoR) Loz, Ray, Kaz, Tracey, & Captain Racky (Brian)